Features
Test Dwolla's Payment API
Simulate use cases and try out platform features in the Dwolla Sandbox before releasing them to production.

Validate Functionality
Mimic the steps to programming payments by attaching test funding sources, creating customers and initiating transfers without using real data or money.
Reduce Time to Market
End-to-end testing fast tracks the development period, allowing a business to seamlessly move from testing to production.
Consistent Command Center
Explore business insights that include user status updates, webhook notifications, transaction details and more—just like in production.

GROUNDFLOOR cut onboarding times from days to minutes.
"The Dwolla sandbox environment allowed us to get up and running in production very quickly. There were no surprises when we went live and that's ideally what you're looking for."

Community lenders offer a faster loan origination process using the LoanWell platform.
"Having the ability to build in Dwolla's fully functioning sandbox environment is huge for a team that is wanting to make the investment in Dwolla but needs to validate that it is going to be the right fit for what they are doing. The sandbox validated Dwolla as a fit." Zirtue exceeded its initial launch projections thanks to an efficient onboarding process powered by Dwolla's payment software
"The Dwolla Sandbox left us with no surprises. Everything worked as expected and as we tested it. Once we moved into production, we didn't see any differences or changes, which was great. Sometimes different environments can produce different results but Dwolla worked really well."
Guides to Support Developers
Dwolla's Developer Portal includes resources and documentation explaining the necessary steps to access and integrate a programmable payment API. Having a well documented API is a priority to our team because effective product adoption requires providing a seamless experience for those building with it.
Start Your Integration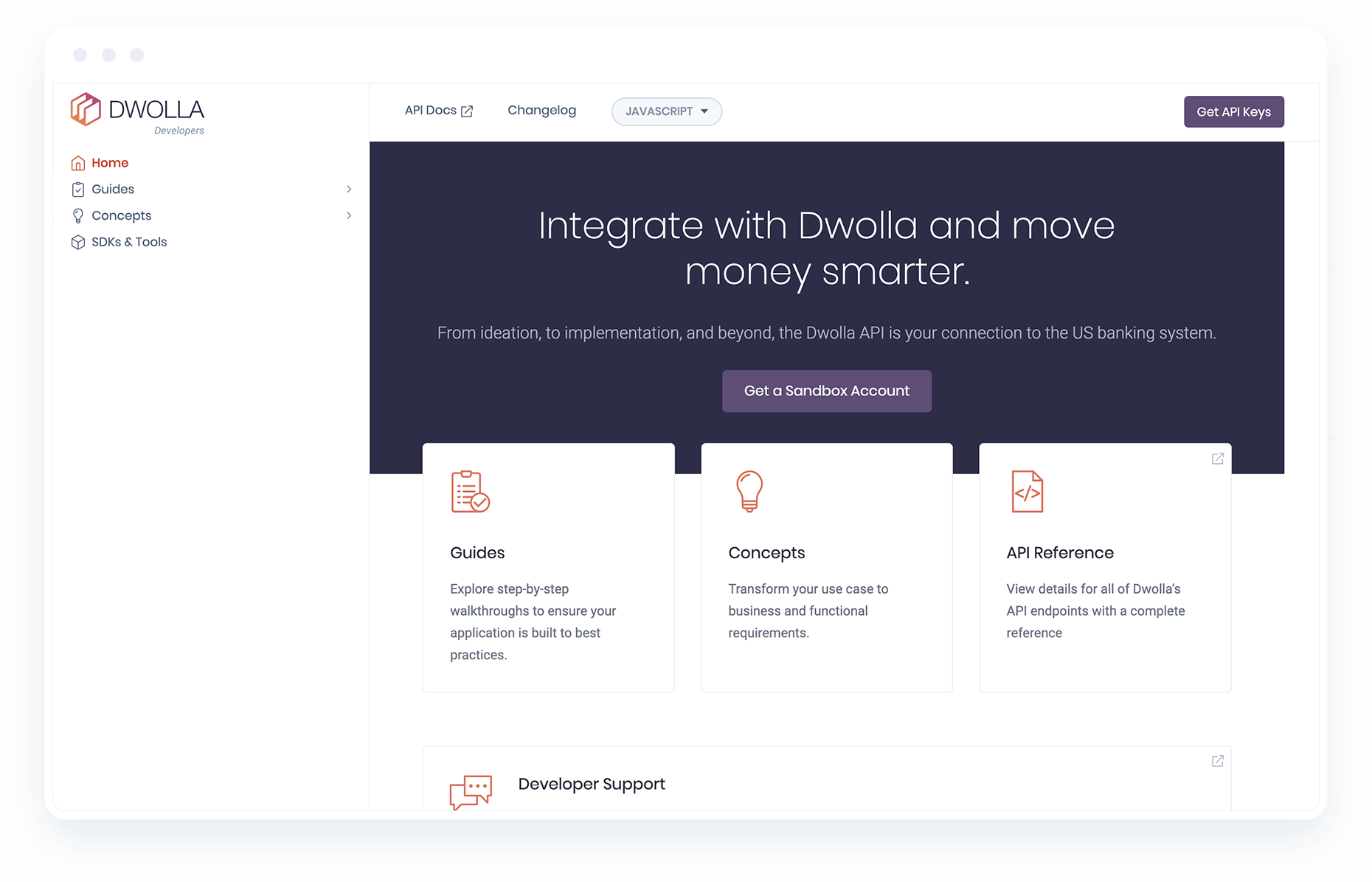 Take Control of Your Payments
Initiate a Payment With Only a Few Clicks
Monitor Activity Across Your Platform
Designate User Permissions