Key Updates:
1. Dashboard Launchpad
The Dwolla team has released a new page to the Dwolla Dashboard–The Launchpad. Find helpful content related to a Dwolla integration or payments in general. From pricing questions to banking holiday references, turn to the Launchpad as a knowledge-base resource for your team.
2. Dwolla Drop-in Components
Our team is actively rolling out a series of alpha components focused on saving our clients development time. The "drop-in" components are pre-built tools focused on creating Verified Customer Records and reducing the technical barrier of entry. By adding just a few lines of code, Dwolla will display a customizable front-end modal to your user and facilitate calls to the API. Whether you are quickly testing basic API calls, or pushing for production use, Dwolla Drop-in Components allow you to rapidly implement key functionality into your application.
If you are interested in being an early adopter of the components, please reach out to us at product@dwolla.com and provide your name and the email address you used to sign up for the Dwolla Sandbox.
3. Instant Payments: Push-to-Debit is Here
Here at Dwolla, we believe we are never done. We strive to innovate with our clients so you can remain competitive and provide the payment services your customers expect. We realize speed and availability of funds are absolutely paramount to support tomorrow's increasingly sophisticated online marketplaces and applications.
Which is why we're so excited to share that clients will be able to achieve instant payouts with Dwolla's latest payment offering: Push-to-Debit. With Push-to-Debit, your customers will be able to bring their own debit card to receive payouts in near real-time, 24/7 365 – no more nightly, weekend, or banking holiday restrictions.
How it Works: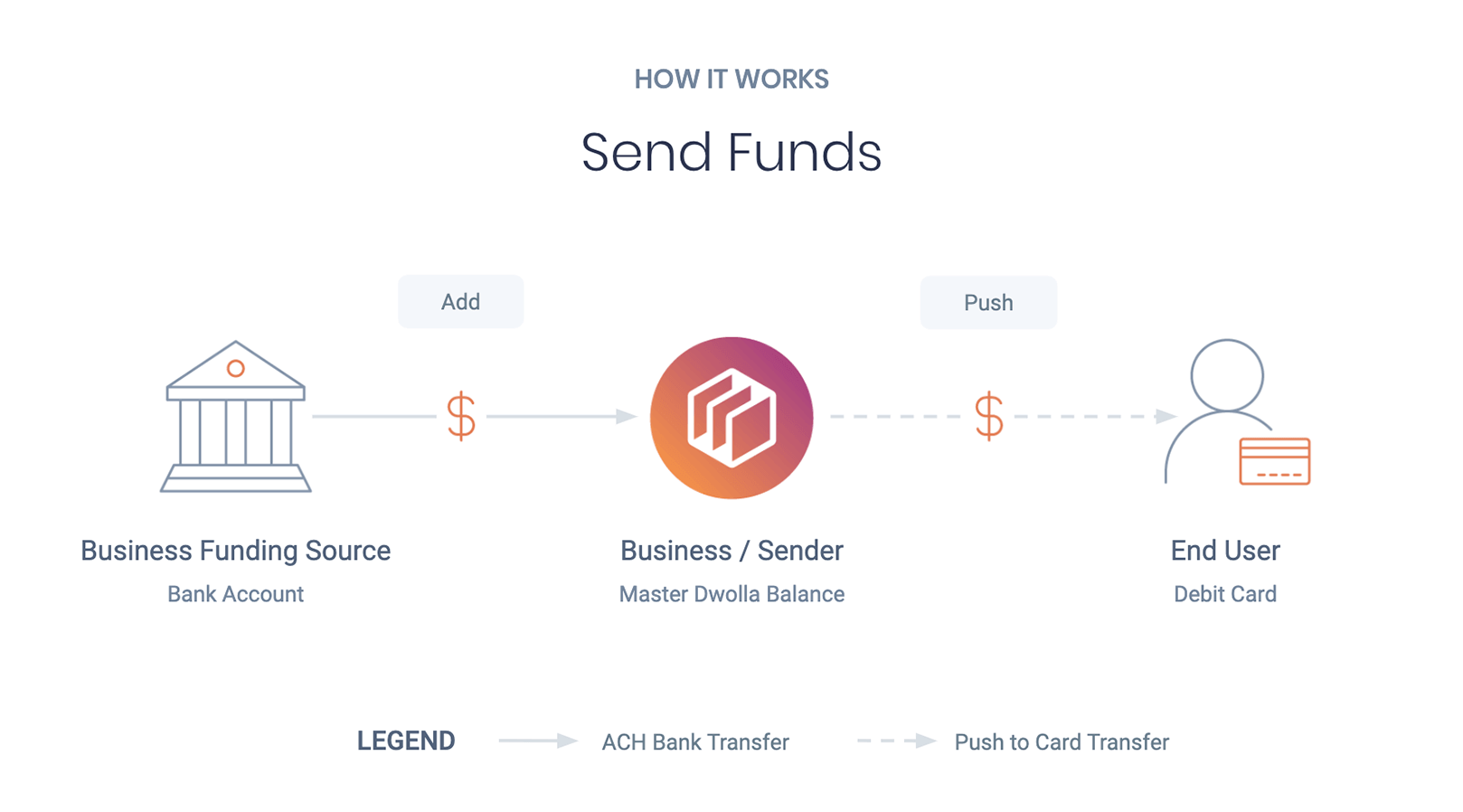 Check out our feature page to learn more about Push to Debit and how it can help grow your business.
4. Security Improvements Coming to the Dwolla Platform
Your security is very important to us. That's why we're making continued investments in our platform to further the use of multi-factor authentication.
Beginning mid-October, we will send Dwolla Dashboard users a 6-digit code to their email upon login. Dashboard users will need to enter that code to authenticate their identity. Opt-in to email-based MFA early by visiting security settings in your Dashboard.
If you are already using MFA, good job! There's no change you need to make to keep using your preferred authentication method.
Learn more about MFA and why it's important in our blog post.