Controlling Account to Account Payments Using Dwolla's Dashboard
Harness the power of online payments and get real-time business insights using our intuitive, multi-user dashboard.

Instant Access to Data
Monitor every stage of your payment cycle from within the Dwolla Dashboard. Receive instant status updates about customer onboarding and funding source verification, store payment data and simplify the reconciliation process. With Dwolla's multi-user payments dashboard, manage a large number of payouts and track the flow of funds to and from multiple bank accounts with help from our ledger technology.
Enhanced Reporting
Transaction Transparency
Monitor transactions, view status details and track end user events on your platform in real time.
Multi-User Dashboard
Invite cross-functional team members to help manage your business and assign specific permissions based on their role and department.
Mature Security Controls
Sophisticated security practices, like requiring multi-factor authentication for users and tokenization, ensures private information stays private.
Reimbursement efficiencies improved by over 800% when this pet insurance company started using Dwolla to program their payments.
"The time savings component is huge for us, as we would have had to hire an additional employee to support our previous payment process. Dwolla saves us time and provides us with great customer service, with responses on the same day. When dealing with service providers that's rare."
Investment platform uses account-to-account payments to introduce fractional ownership to art collecting.
"It's been great having a partner with tooling and technology that just works, can scale and doesn't require a lot of babysitting. It enables us to focus on the parts of the business that do need attention."
Property managers save nearly $2 per transaction with Dwolla's ACH API.
"Dwolla enables us to disrupt what is currently happening, which is that initiating a rent payment is costing people money. With Dwolla, we're able to provide more value to our customers by not charging a fee for residents to pay what is probably the biggest bill of the month."
Simplified Payments from the Dwolla Dashboard
Manage customer onboarding, initiate (or retry) transactions and monitor the payment activity for your application.
Control multi-user permissions with only a few clicks
View transactions received and sent across your platform
Easily manage cash flow and stay on top of optimal earnings
Consumable Information
Charts and graphs automatically populate to easily view business metrics.
Application Management
Control your applications to authenticate to the Dwolla API.
User Management
Deactivate or reactivate users, update payment information and view transaction history.
Add Multiple Funding Sources
Designate funding sources specifically for sending or collecting payments.
Download Detailed Statements
Choose a CSV or PDF document for a high level summary of payment activity.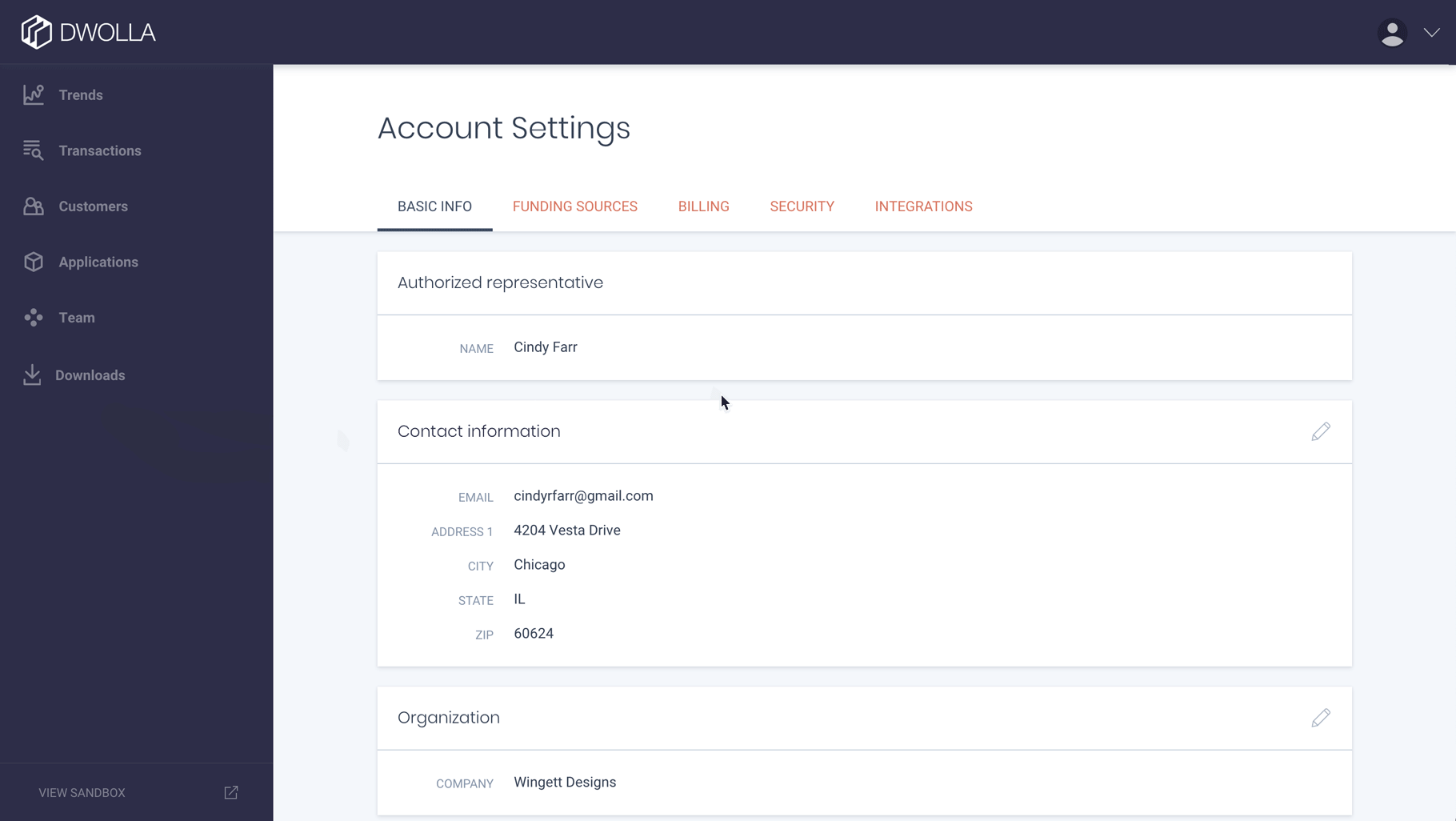 Let's divide this question into two buckets: integrating and live clients.

For integrating clients in the application review and onboarding phase, typically we see developers, product managers and founders interacting with the dashboard.

Once a client is live, customer success and finance team members are the primary users. Developers remain active in the Dwolla Dashboard to investigate any issues that may arise.

Our goal with the dashboard is to provide a streamlined source of truth in three critical areas: customers, funding sources and transaction data.

The dashboard is a client's one-stop shop for information after going live. We're continually working to make the dashboard as intuitive and "self service" as possible to reduce friction and set you up for success.
The dashboard is designed to be a source of truth for clients. Multiple users should be able to quickly identify issues and take action from the dashboard, without needing to sort through the API or dense reports.

Our goal with the dashboard is to provide a streamlined source of truth in three critical areas: customers, funding sources and transaction data.

The dashboard is a client's one-stop shop for information after going live. We're continually working to make the dashboard as intuitive and "self service" as possible to reduce friction and set you up for success.
Dashboard Permissions: Providing Teams with Flexibility
We've structured the Dwolla Dashboard to support multiple users for companies and teams of various sizes.
The person who started your Dwolla account is referred to as the "account owner." They might be a developer or senior company leader who was highly involved during the API integration process.
If there comes a point when this person no longer handles the day-to-day work in the dashboard, it's possible to change who owns this role. The original account owner can email support@dwolla.com to update the account owner's contact information. The account owner role can't be deactivated.
Outside your account owner, you have the ability to invite additional folks to help your business manage your payments and integration.
"Team members" are those who have been invited to join your company's dashboard. Anyone with a valid email address can be invited to your dashboard and no special settings are needed to invite contractors or third-party vendors who work on behalf of your company. You have the flexibility to update team members and access—including account deactivation—if accounts are no longer needed.
Customizing Your Payments Dashboard
The Dwolla Dashboard is flexible and can be customized to your team's workflow and needs.
For example, your customer success team might need access to research customer service requests. You might grant them "Edit" access to transactions, customers, funding sources and initiate transfers. Customer success team members and managers may want to better understand business metrics. You can enable access to the trends page to allow them to see usage patterns over time.
If you're onboarding new hires in customer success, you might consider introducing them to the dashboard by specifying "View" access. This will allow them to explore the dashboard without making any changes. Once they're ready to start working on customer requests, you can adjust their permissions to "Edit."
For your engineering and IT staff invested in your company's technical success, make it easy for them to maintain your applications by allowing access to applications.
"View" access provides the ability to see all applications, keys, secrets and webhook details. "Edit" access allows them to manage applications and webhook subscriptions. If they manage third-party integrations for other applications that your company uses outside the Dwolla Dashboard, you can also grant "Edit" access to integrations.
Those working in finance can have access to the billing page to download past invoices. If your finance team tracks specific payments, "View" access to transactions may also be useful. Your finance team members and business analysts might also find it valuable to track success metrics in the trends section of the dashboard.
Is your team taking on additional staff on a temporary basis? If your team includes any contractors who need to work in the dashboard to support your business, you can grant "Edit" or "View" access to those areas as appropriate. When their assignment is complete, simply deactivate their account.
Enhanced dashboard permissions give your team the flexibility to scale, whether you're integrating a payments API for the first time or migrating from an outdated, manual payments process.
Get Started With Account to Account Payment Technology
Create a free account to access our technology, or inquire with our sales team to discuss your use case.
---