Account to Account Payment Technology
Integrate a Simplified Payment API
Customize the payment experience to reliably send, collect or facilitate payments electronically using Dwolla as your payment API provider.

White Label
Cover our
payment API
with your branding to maintain consistent user experience as end users initiate payments on your platform.
Configurable
Design the ideal workflow for your business to include multiple transfer types (ACH, Real-Time Payments, Push-to-Debit) and multiple payment flows, regardless of how you're moving money.
Scalable
Our payment platform API has a proven 99.9% uptime and goes through continuous testing and third-party auditing.
Increase Your Speed to Market With Drop-in Components
Guides to Integrating a Payment Platform API
The Dwolla Developer Portal outlines the technical capabilities of Dwolla's payment API, enabling decision makers to evaluate how it best serves their needs.
Our Developer Relations team has created step-by-step instructions to help ensure your API integration is built with best practices. No matter how you're using Dwolla's payment API, leverage our robust documentation and how-to guides, plus a few well-designed endpoints that can handle the most complex payment needs.
Test in the Sandbox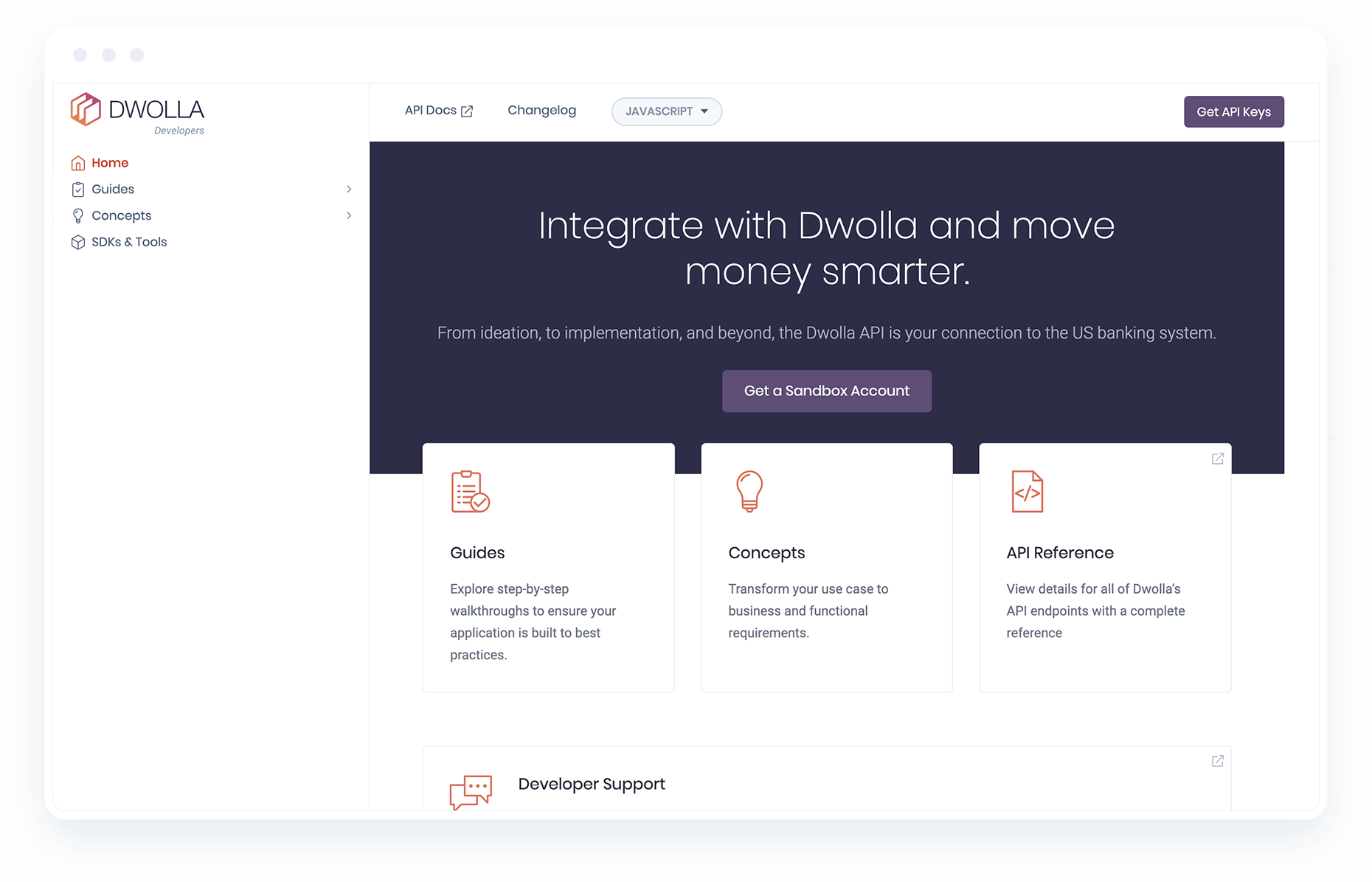 Knowledge Based Authentication
We require identity verification for at least one party involved in each transaction.
Dwolla's API has built-in features that assist with meeting the requirements of verifying the identity of a new user. Should a user fail the initial verification attempt due to invalid information, Dwolla's Knowledge Based Authentication (KBA) feature provides an alternative way for a user to verify their identity through a series of questions that are specific to each user. Questions are compiled from public and private data, such as marketing data, credit reports and transaction history.
Customer Types in the API
Bringing real estate investing from the country club to the mainstream, with help from Dwolla.
"What distinguished Dwolla was the heavy emphasis on compliance and the overall polish around the white-label aspect of the business. The API was clean, easy to understand and we were up and running very quickly compared to some of the other vendors."
Community lenders offer a faster loan origination process using the LoanWell platform.
"We are able to work as a partner with Dwolla. We're working on some custom things to make our workflow and processing easier. Being able to have that conversation and go down that road, regardless of what happens, is great. Dwolla feels like more of a partnership than just another vendor."