Fintech Platform Experiences Astronomical Growth With Dwolla
Problem: Looking To Add Payments Automation And Maintain A Consistent UX
Solution: Direct Deposit in 24 Hours With Dwolla's Payment Platform
Transaction Volumes Increase By 600% Over 3 Years With Scalable Payments Technology
Be better with money doing less work.
By connecting bank accounts and orchestrating transactions, Astra has built technology to help users manage their money with programmable "routines." Users establish sets of rules and let Astra's automation engine make sure funds are where they want them to be. For example, a user could set a rule that once the balance in their checking account drops below a certain threshold, funds should be pulled from their savings account. 
Once the user sets their rules, no manual interaction is required to move funds to fulfill those rules.
"There's this expectation that individuals need to actually log into your mobile application to fund their accounts. Incentivizing someone to come in and take action is a big challenge," says Astra CEO Gil Akos. "With Astra and Dwolla, in one user session, you can basically get someone authorized and an automated routine set up in a few clicks. Now the work-to-be-done is handled by our software, not the user."          
As their technology matured, Akos and Chief Operating Officer Sam Morgan say the use cases have expanded beyond account to account transfers for a single consumer. Other fintech products and neobanks are integrating Astra's transfer API to enable financial automation with faster, more reliable payments, processed acrossed a variety of A2A, P2P, C2B and B2B routes.
After launching with Dwolla in August of 2018, Astra has seen transactions grow by over 600% and are moving tens of millions of dollars.
"Integrating with Dwolla's payment technology has allowed us to go from zero to one in terms of our product," says Akos
Today, 86% of all automations created are still running. 😎
Countdown To Launch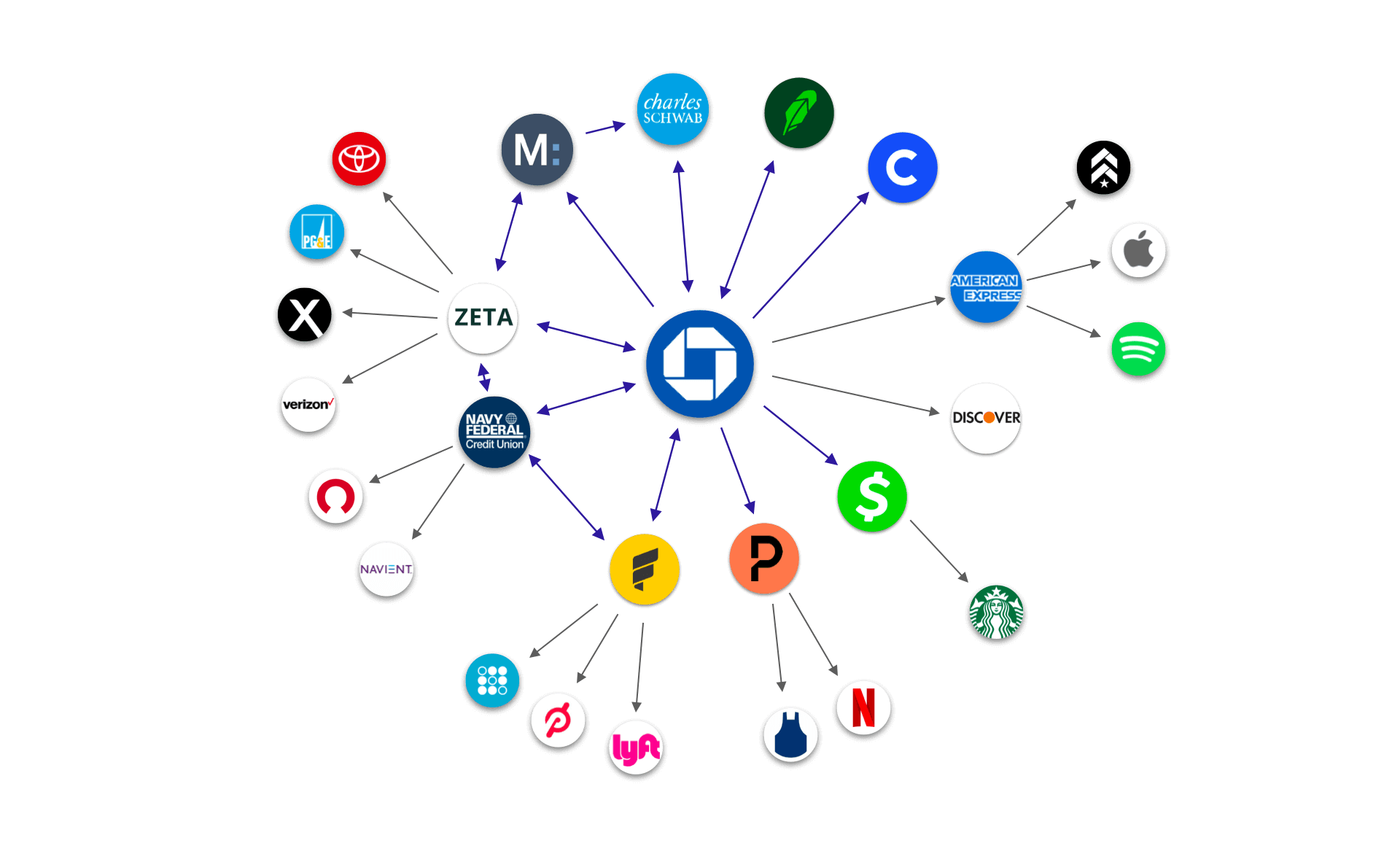 Consumers have more accounts from more providers.
As early as 2015, Akos and Morgan started having weekly phone calls to discuss and understand consumer finance from the technical and product offering perspective. Their hypothesis was simple: present useful information to a user so they can make beneficial financial decisions across all of their accounts, then automate the actual movement of funds.
As they continued iterating on their core technology, the search began for their ideal payment API. Akos says their focus was on bringing value to their users and that building a payment API from scratch wasn't an option given all of the features that they wanted to make for their application at launch. 
"There was enough for us to tackle," Akos says. "We have just continued to make our policy and decisioning systems better over time. What are all the things we can automate? How can we optimize the settlement speed? That's what we ended up building on top of Dwolla." 
For users to actually transfer funds from one account to another—Me2Me—they needed a configurable payment integration and white-labeled technology. Akos said they were looking for a solution that could easily connect with Plaid, yet be manageable enough for their very small development team. 
In the end, they chose Dwolla because of its robust developer documentation, integration with Plaid and dedicated support channels. 
"Dwolla has been very straightforward, the cadence that we are able to take new product releases from Dwolla, get them integrated into our platform and pushed out to customers is super fast," Morgan says. "Faster transfers on ACH have been great, and now we're working to offer real-time payments. Our customers love that the acceleration of new tech is so quick."
Mission Control

Integrating with Dwolla was a two-phase process for the Astra team and it was made easier due to a direct line of communication to Dwolla's dedicated technical and support teams.
Phase one included integrating with Dwolla's API to build the foundation for the relationships. Phase two included working closely with the Dwolla integration team to iron out the nuances of their funds flow. 
"That part was a really high touch, high-value interaction with the Dwolla team," Akos says. 
Throughout the entire integration, Akos and Morgan found value with Dwolla's the dedicated support team. 
"The dedicated support channel was huge for us, especially in dealing with those nuances, that's not something you can extract out of API documentations," Akos says. "The feedback time was much shorter, very different from submitting a support ticket." 
Akos says he and his engineering team appreciated Dwolla's support team and their ability to take feedback quickly and collaborate to develop a solution tailored to their business needs.
"The responsiveness…" Morgan explains. "That was super useful in terms of having it be more of a flow rather than sending something and waiting days for a response, just to play the email game." 
The Next Frontier
As the focus turns more towards their transfer API, Akos says it was the consumer application that allowed the Astra team to test virtually every problematic use case for transferring funds between financial accounts. 
This led to a best-in-class transfer reliability rate of 99.997% and is powered by Dwolla's reliable payment API.
"We've solved and optimized for settlement reliability," Akos says. "We're making sure those are good transfers and that the money is there to fund them." 
Moving forward, Morgan says their goal is to expand a network of vetted, verified users on various Astra-enabled platforms.
"Any rule, any route, any rail," Akos says. "You can interact with these automated capabilities wherever you interface with your money. Developers can now build on our platform, leveraging Dwolla's capabilities of faster, reliable payments—as well as rules that govern the flow of funds."

Let's Build Something Together
---